Why Many Kitchen Remodelers Use A Good Janitorial Services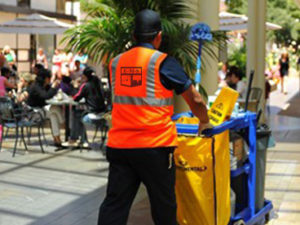 With over 20 years of combine experience providing Houston with affordable janitorial and maid cleaning services, Dusty Maids Cleaning Services and its sister company Space City Maid Service is proud of its history of satisfied customers and a long list of referrals. While impeccable hygiene and immaculate cleanliness are what we do, satisfied customers are our business –– and business is good!
Our leading janitorial services are powered by a qualified staff of professionals with plenty of experience in office cleaning and building maintenance. For the best cleaning services at an affordable price, call us today.
Count on us to address all aspects of office cleaning from the boardroom to the break room and always get it perfect the first time. Our cleaning technicians are at the ready to be dispatched at the hour of your convenience and committed to exceeding your expectations as only our first-rate janitorial services can. Call us today if tangible cleanliness is what you had in mind in janitorial and office cleaning services.
We specialize in kitchen and bathroom remodeling clean up after remodeling companies are done with their renovations.
Houston Janitorial Cleaning Services for Houston kitchen remodeling Agencies
We provide reputable janitorial cleaning service in Houston, Sugar Land, Missouri City, Pearland, and Stafford TX. As you can see from our exuberant following of satisfied customers, we take cleaning service seriously and treat every task with the same attention to detail we provide our own facility –– call us for more information on our janitorial and office cleaning services.  Since we cater mainly to remodeling agencies, we know the routine and can guarantee you satisfaction.
Office Cleaning Services for Foundation Repair Companies
Dusty Maids Cleaning will address all aspects of office cleaning to ensure that you can focus your workforce on what they do best. We will make sure all surfaces from the cubicles and partitions to the trash cans and carpets are cleaned and visually pleasing. We provide superior services at the most affordable price in town. Call us today for offices so clean they make daily work a joy. We also cater to foundation repair companies and various construction related type commercial businesses.
Property and Building Maintenance
Dusty maids cleaning services can take on larger tasks as well, call us up to hear about our very flexible plans for cleaning and maintenance of your commercial structures. Because we are a fully bonded and insured cleaning service, you don't even have to present when we begin working. We will handle it all, call us today for first-rate building maintenance and cleaning services.
Commercial Carpet Cleaning Services For After Home Remodel
A clean, stainless and fresh-smelling carpet can create a positive and comfortable environment suitable for business transactions and productivity –– the reverse is also true. Don't let your carpets drag your business atmosphere down, call out highly trained carpet cleaning services and give your space a face-lift.  Most home remodeling jobs can get stains and dust on existing carpet.  Let us help by steam cleaning it back to its original state.
Post Construction Cleaning for Foundation Repair and Home Remodeling
Construction is always exciting, but it invariably makes a mess of the place and this debris can be tough for regular janitorial staff. But, our professionals are as fast and effective as they are affordable. Call us today and we will have that rubble, plaster, paint spackle and dust removed at the speed of business.   Remember we have many clients in the home remodeling and foundation repair industry, so we are used to post construction cleaning.
Right Equipment for the right jobs
To provide the caliber of cleaning services we offer, it takes more than a mop and bucket. We have invested in a full array of cutting-edge cleaning equipment that allows us to do the best job possible. No matter the size or complexities of the task, you will find we deliver a consistently high standard of cleaning service.
Our first-rate equipment coupled with our extensive skill and experience allows us to provide these services quickly and effectively.
At Space City Maid Service we have placed our full commitment into building a reputation as the preferred Houston Janitorial and Cleaning Services for a laundry-list of local businesses. We offer superior cleaning services, flexible hours and visitation frequency. It is your choice if we come once every week, two-weeks, month or every day –– whatever your needs.
Professional Houston Janitorial Services
Dusty Maids Cleaning offers affordable cleaning and top-quality services for the Houston and surrounding reads. Our services have increased value due to our extensive network of venues and the high level of experience in our qualified cleaning professionals. But, even more than this, our cleaning professionals have a passion for cleanliness and a sincere desire to provide the best services they can.
Benefits of Selecting Dusty Maids and Space City Houston for Commercial and Residential Cleaning
Houston cleaning companies of all kinds provide different levels of service and use all types of cleaning supplies. When you call Dusty Maids or Space City cleaning services you can count on a unique cleaning service with extensive benefits beyond just a clean environment. For example, you can count on us to use healthy and environmentally-safe cleaning supplies.
Extensive Commercial Cleaning Houston Services
We also provide our reputable cleaning services in Missouri City, we have the skills and cutting-edge equipment to provide top-quality services in as little time as possible.
Houston Janitorial Service and Office Cleaning Services
At Dusty Maids Cleaning Services we provide reliable and superior cleaning services to Missouri City TX, Sugar Land TX and SW Houston TX. While we know you will be completely happy and satisfied with our services the first time, if for any reason there is something not quite right, we will repeat the task to you are satisfied.
School Janitorial Services
In addition to our janitorial and office cleaning services, we also provide services to the school. Our cleaning professionals will keep classrooms, gyms, laboratories and dining halls in spotless conditions at the end of each day.
Dusty Maids Cleaning Service Houston – Hospital Janitorial Services
Hospitals are other locations that require next-level cleaning and specialized attention to detail. Because of the nature of hospitals, the slightest impurities are a threat to health and life. This is why it is essential to demonstrate exemplary sanitary standards and make a good impression all throughout your hospital.
AT Space City cleaning service we have a special program for keeping hospitals and medical facilities clean and sanitized to the highest degree. Any of our professionals assigned to these very serious cleaning jobs will have undergone special training to ensure their suitability for the task. This includes training for handling dangerous contaminated waste materials
Sports Venue Cleaning Services
Sports cleaning is definitely one of the more challenging options here, this is because of the large amount of trash. Nevertheless, we have an especially thorough team of qualified sports venue cleaning professionals with all the right tools to ensure the place is left perfectly clean.
Additionally, we provide cleaning services for airports, concert halls, fitness centers, hotels, research facilities and more.